In 1977, one man's 12-year journey tracing his family's roots resulted in a best-selling novel and television mini-series. This sparked a country-wide resurgence in the interest of discovering one's ancestral heritage. According to the National Archives, for the first time in history, there were lines of families queuing to conduct research. In one week alone, the Archives received more than 7,000 requests for references. While not everyone will transform their story into media, each person's story is unique.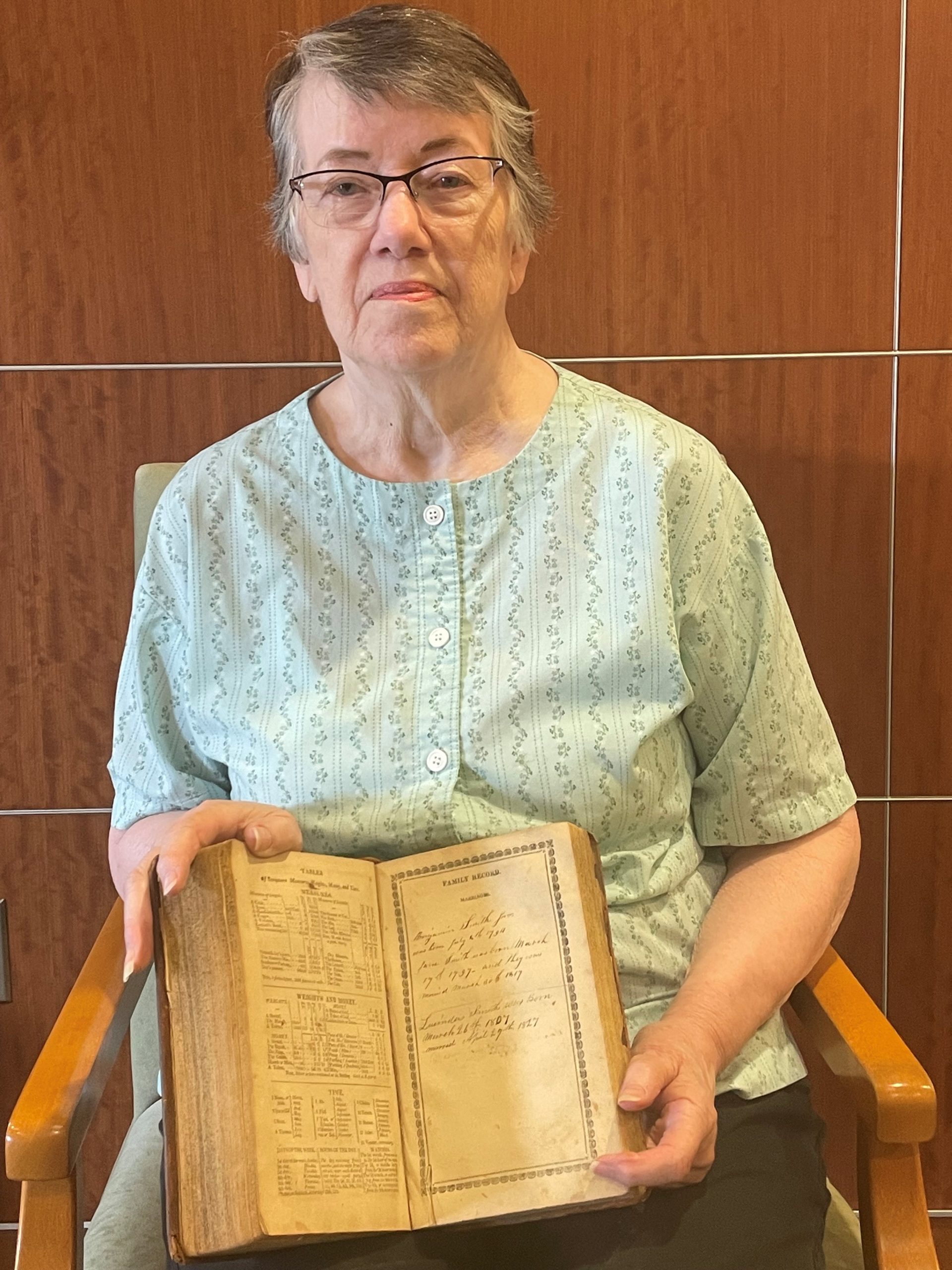 Jean Johnston, a new resident of The Community at Rockhill, is one of fifty percent of Americans who have researched their roots. Jean's goal is getting to know who her ancestors were as people, not just lines in a family tree. When asked how she became involved in her genealogy, she said she had received the family bible at an early age. Jean discovered the inside page of the 1815 Bible was filled with family records of marriages, births, and deaths. Jean was struck by how beautiful and precise the writing was and said, "I even learned calligraphy, but I don't write in that Bible, it's too fragile."
It was family stories heard around the dinner table or past names mentioned by her family that piqued her interest to learn more. "I kept hearing the name "the Beck Boys" in family conversations," and she wanted to find out more about these "boys." Through Jean's research, she discovered "The Becks Philadelphia Band." The band's members were distant cousins and notable during their time. The eight-member ensemble played for events such as balls, charities and the first-ever Republican Convention in 1856 in Philadelphia.
To discover as much of her family history as possible, Jean has traveled to many counties and a few states, including Maine. Birth and marriage records, the census, and the National Archives have been her most productive leads when it comes to family discovery.
Jean's daughter, Christine, shares her mother's passion for family history. "We enjoy sharing with each other the little bits of interesting facts we each learn. It has helped keep us close." The most surprising tidbit Jean found during her research was that her family and her husband's family were once neighbors! What a small world, indeed.
Since DNA testing is now affordable and easy, companies such as 23andMe, Ancestry, and My Heritage make tracing lineage much more accessible. Jean mentioned she and her daughter have both undergone DNA testing: "It is interesting to see what pops up. Most people don't respond when I send a question to them, but I respond when people reach out to me. I try to help anyone on the site who needs something I have, like a picture of a relative."
When asked where she will go from here with her research, she said she is so busy with other things now that her research has taken a backseat. "For me, it was never about trying to find famous people in my tree, just interesting people."
No matter where you are on your ancestral trek, we are fortunate enough to have a resource for you right in our own backyard—The Indian Valley Public Library. The library has a "how to" section of genealogy books as well as books on the Keystone State and our local history in its Pennsylvania Room. Mary Porter, who works at the library, offers in-person sessions for folks needing assistance with their research. She also instructs folks on the use and navigation of genealogy software and is happy to provide assistance via email for anyone unable to physically travel to the library. Requests for more obscure research materials available at other libraries may be made through the Interlibrary Loan System.
This past spring, Mary started offering programs related to genealogy, such as sessions surrounding Polish heritage and French/Canadian/French Canadians, among other topics. The current programs are listed on the library's website. Dates and times are updated regularly and posted close to the day of the event.
In addition to the Indian Valley Public Library's resources, you may find these others (below) to be valuable as well. Happy hunting!
Tips for Beginning Genealogists YouTube