Explore brand assets of Grace Inspired Living and its affiliated communities. Please submit a request for permission when you need to use brand assets in any projects, e.g., press and media, partnership branding including marketing and advertising. All usage requires approval.
Each logo exists in up to three color variations. We use the primary variation whenever possible.
A graphic's clearspace is the required minimum padding around the outside of its design elements. For the main Grace Inspired Living logo, the clearspace has been defined as the height of the lowercase 'e,' which amounts to roughly half the height of the full design. 
Likewise, the clearspace in our subbrand logos is the height of the lowercase 'o.' This must be consistently observed in all applications of all logos.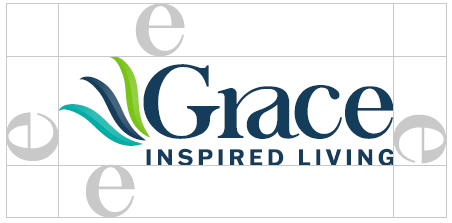 The minimum logo size for digital applications is __px wide. In print, the minimum size is __mm wide. These specifications are required to maintain the visual impact and integrity of our logos.